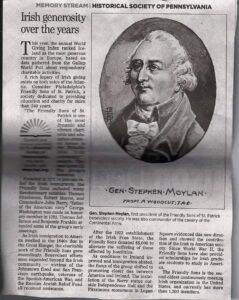 As we pause to celebrate the anniversary of America's independence from England, we are proud to highlight Society members who played integral roles in the American Revolution. Brigadier General Stephen Moylan is a famous Patriot from the American Revolution and the 4th great grandfather of two current Society members, Ann and Scott Fox.
General Moylan had a distinguished career in the American Revolution. But it wasn't his sword that kept him in the history books. It was his way with words. For Stephen Moylan, an aide-de-camp to George Washington, gets credit as the first to write the words, "United States of America." Click HERE to read more. Click HERE for a detailed bio about General Moylan.
His letter regarding the Battle of Princeton just sold at auction as one of the finest accounts of the battle in history. He said in his letter ending his letter about the victory of Princeton:
"It was glorious, the consequences must be great. America will, by God it must be free."
Click HERE to read more about his letter.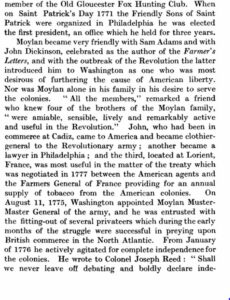 Click HERE for article about how General Moylan worked for independence. The Society is also mentioned in this article.